Latest News from Starr Law Firm
Michael Presbitero

 Voted Best 

Business Law

 Attorney in P

lano and Frisco
It's always wise to consult with an attorney before signing any kind of contract to protect your rights and get fair terms. The collaborative team at Starr Law FIrm would rather help clients up front versus helping them try to fight contract terms after the fact.
Laura Starr Voted Best Estate Planning & Probate Attorney in Prosper and Celina
Skilled at developing personalized, complex estate plans, Laura helps safeguard her clients' assets while also addressing sensitive issues such as guardianship and long-term care.
Starr Law Firm P.C. – Voted Best: Laura Starr Estate & Probate Attorney and Michael Presbitero Business Law Attorney in Plano and Frisco
We are beyond delighted to announce that for the second consecutive year Laura Starr has been voted 2022 Best Estate & Planning in Plano/Frisco and we are ecstatic to announce that Michael Presbitero has been voted 2022 Best Business Law in Plano/Frisco by Living Magazine Reader's Choice Awards.
Our attorneys at Starr Law Firm are known for providing personalized service and will work together to help you achieve your goals and to put you and your business in the best position for continued and sustained success.
2022 Top Lawyers in North Texas
We are excited to be recognized

 
as

 
2022
Top Lawyers
in North Texas by 
Frisco STYLE
 

magazine. We thank our peers, clients and
Frisco STYLE
readers for their nomination and their continued support of our team at Starr Law Firm. 
Firm offers more than 50 years of combined legal experience
Family-owned and operated, clients benefit from Starr Law Firm's strong roots in the North Texas community, local insight and the professional relationships cultivated by our team of attorneys.
Book Boxing Brunch with Leadership Plano Class 38
Attorney Michael Presbitero and other members of @planochamber Leadership Plano Class 38 donated supplies and time for the first Book Boxing Brunch benefitting
the children of the Collin County Juvenile Detention Center. We are looking forward to the next one!
Peace of Mind
 "Estate planning is taking different puzzle pieces and putting them together to create a cohesive, customized plan that takes into account unique situations and works for all the parties involved, " says managing shareholder Laura Starr.
Awarded Texas Rising Stars & Super Lawyers for 2022
We are delighted to announce that for the third consecutive year, Laura Starr and Michael Presbitero have been named to the 2022 "Texas Rising Stars" and 2022 "Super Lawyers" lists published by Super Lawyers, a Thomson Reuters publication and rating service.
"Texas Rising Stars" recognizes attorneys across more than 70 practice areas who are 40 years old or younger or in their first 10 years of practice. Inclusion is based on a highly selective process comprised of detailed and comprehensive peer nominations, evaluation, and research – yielding only those who have both a high degree of peer recognition and professional achievement. Just 2.5% of eligible lawyers in Texas are named to the list.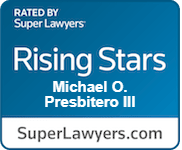 Laura Starr key component of firm's success
We are delighted to share with you D Magazine's feature on Laura Starr showcasing her expertise and philosophy which is a driver of the firm's success.
2022 Best Lawyer Under 40
We are thrilled to announce that for the second consecutive year, Laura Starr has been selected as 2022 Best Lawyer Under 40 by D Magazine. Laura is known for developing customized estate planning solutions for her clients' complex situations. She finds great personal satisfaction in crafting estate plans that provide peace of mind for her clients while helping them accomplish their goals. The Starr Law Firm has deep roots in the Collin County community and believes in building trustworthy relationships with clients in order to understand how best to serve their needs.
An ounce of prevention is worth a pound of cure
"Uncovering and addressing as many risks as possible before signing a contract and closing on a property is a wise investment that pays off, often in substantial ways," says seasoned business attorney Michael O. Presbitero III.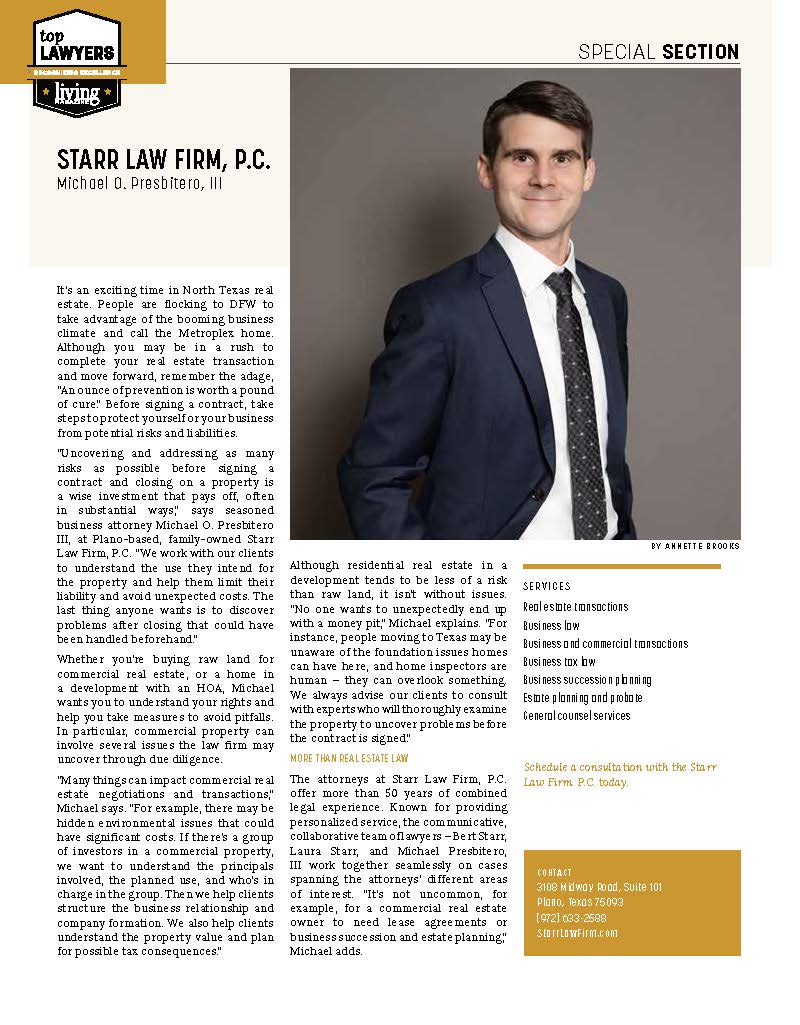 Starr Law Firm Celebrates Best Law Firm U.S. News 2022 Recognition
We proudly announce Starr Law Firm being selected as 2022 Best Law Firm by U.S. News & World Report. We are a family-owned firm with deep roots in the community and believe that effective advocacy begins with cultivating a close working relationship with each client. Our attorneys have over 50 years of combined legal experience building strategic solutions for individuals and businesses.
Bert Starr Named to Annual Best Lawyers List
For the second year in a row, Bert Starr has been named to The Best Lawyers in America© 2022 edition, which recognizes the top attorneys in the United States. Bert has earned the respect and trust from his clients and the recognition by his peers.
To develop their annual list, Best Lawyers conducts a multi-step review process that consists of nominations, peer review, analysis of feedback, and a final confirmation of eligibility before releasing their results. Attorneys are not permitted to pay in exchange for a listing.
Michael Presbitero selected to participate in Leadership Plano Class 38
We are thrilled to announce that Michael has been selected by Leadership Plano and the Plano Chamber of Commerce to participate in Leadership Plano Class 38. In his role, Michael's responsibility will be to provide insight and advice to the organization for current and future programs, activities and general ideas to promote the organization and further its reach and impact, with his perspective and experience as an attorney. The organization's primary program is called "Operation School Bell", which provides clothing to underprivileged children in Collin County to alleviate the adverse effect that the lack of clothing or appropriate clothing may have on school performance and attendance, as well as overall self-esteem.
Leadership Plano is dedicated to educating, developing, and empowering current and future leaders for the community and motivating them to serve civic, charitable, and business organizations. For more information, please visit https://www.planochamber.org 
Starr Law Firm P.C. – Laura Starr Voted Best Attorney in Plano and Frisco

We are beyond delighted to announce that Laura Starr has been voted 2021 Best Attorney in Plano/Frisco by Living Magazine Reader's Choice Awards.
Laura, who primarily focuses on estate planning, probate, and guardianship law, enjoys getting to know her clients and building a trusting relationship with them. After understanding what they want and need, she educates clients on the best legal approach that protects them and their family. Laura  builds plans that are completely customized to each client because everyone has unique goals and circumstances.
Consulting with clients throughout the life of their business

Attorney Presbitero's practice focuses primarily on commercial real estate and business transactional matters for small to mid-size private businesses.
He encourages people to do their due diligence and consult with an attorney regarding all legal agreements, contracts, or documents, especially when forming a business and believes all business owners must have an exit strategy or a business succession plan. Business succession planning is estate planning for one's business and it is needed to determine what happens to their business when particular circumstances arise.
Laura Starr featured in D CEO's Women Leadership

It has been a stellar year for Attorney Laura Starr and we are pleased to share her feature in D CEO Magazine, highlighting her 2021 achievements.
Recognized as a 2021 Women in Leadership for 3rd consecutive year by Living Magazine
We are honored to announce that for the third consecutive year, Laura Starr has been recognized as a 2021 Women in Leadership, an annual showcase of the area's most successful female entrepreneurs and professionals, by Living Magazine.
Laura Starr, Managing Shareholder at Starr Law Firm, P.C. has always had a passion for serving others. Laura credits her parents and her education at Ursuline Academy of Dallas for teaching her the importance of hard work and dedicating oneself to serving others.
Ursuline Academy's motto, Serviam ('I will serve'), is one of the main reasons I became a lawyer," Laura says. "It's a way of using my talents to give back to my community and help those in need."
Recognition from The Texas Bar College
We proudly announce that The Texas Bar College has recognized Michael Presbitero for completing 80 CLE hours within three years.
The Texas Bar College, the only organization in the United States formed for this purpose, is an honorary society of lawyers, chartered by the Supreme Court of Texas in 1981, to recognize and encourage lawyers who maintain and enhance their professional skills and the quality of their service to the public by completing at least double the required hours of continuing legal education each year. The College also sponsors or otherwise assists in educational activities of significant merit and widespread relevance and applicability to the legal profession.